Nick Coffer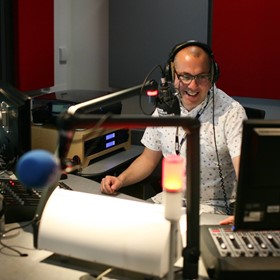 Presenter/Writer
Broadcaster, author and food writer, Nick brings passion and creativity to all he does. His blog/vlog 'My Daddy Cooks' has been a phenomenon.
Combining time spent with his family and a strong belief in affordable nutrition and good food for all, the running theme of including children in the preparation of meals at home has resonated widely and led him to writing two best-selling popular books, the same titled 2011 'My Daddy Cook's' and 2014 'The After School Cookbook'.  
These books include a great variety of recipes and are very accessible. Nick's writing style and juxtaposition of healthy affordable eating at home and time spent with family, makes the books feel more like a friend sharing tried and tested recipes rather than just another cookbook on a shop shelf.
In 2010 Nick originated the programme Weekend Kitchen and it can be heard every Sunday on BBC Three Counties Radio. A programme which ran ahead of the zeitgeist for the genre, it quickly established itself as the flagship of the station's weekend output, it features a lively mix of guests, conversation and lots of excellent recipes cooked live. These are then all placed online for listeners to cook at home. Weekend Kitchen has a large dedicated following across Herts, Beds and Bucks and nationally via the BBC iPlayer.
Nick's warm engaging nature and presenting style has lent itself perfectly to the BBC Three Counties weekday afternoon arts and entertainment programme, which he commenced presenting Autumn 2011. With a first class mix of music and in-depth interviews, guests are given the time and space to properly explore and expound on their works and areas of interests.
Guests respond to Nick's relaxed, unrushed and informed style of interviewing. They enjoy being on the programme and frequently open up in a way which is increasingly rare in today's frantic media. Whether leading name celebrities or first-timers talking about subjects often deeply personal and sensitive, guests engage with Nick and it makes for a compulsive listen.
Nick's unshowy manner and warm demeanour has made his BBC Three Counties afternoon show the perfect daily antidote to a life increasing lived by us all in 140 characters and its enjoys a very large and dedicated listenership.
Outside of his busy radio work and writing, Nick works with leading brands including Sainsbury's and is an excellent live speaker and presenter.